How Whole Life Insurance Works
Today I want to introduce you to a kind of graphic illustration of how whole life insurance works. It's kind of a somewhat misunderstood product by many advisors out there and it really has some tremendously good features and attributes. I have three illustrations I wanted to introduce to everybody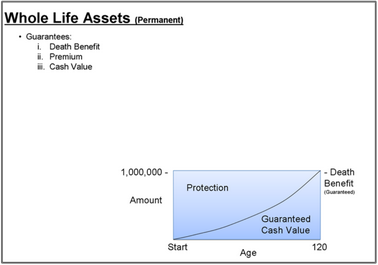 today. The first one shows the 3 guarantees, so illustration number 1 we call the Three Pillars, the Three Guarantees. Graphically, we are showing how a whole life insurance policy has a guaranteed premium. Premiums can never go up; it is contractually guaranteed. You have a guaranteed cash value and you have a guaranteed death benefit. The illustration shows how in the beginning, the $1 million death benefit policy stays level based upon guarantees and cash values continue to grow so that at age 100, or 120 or 121, depending upon the carrier, the cash value will equal the death benefit. So a very strong structure or chassis or engine, I like to call it, the whole life foundation is built around those three guarantees:
Guaranteed Premium – the premium can't go up
Cash Value – guaranteed every year to increase regardless of the market
Guaranteed Death Benefit – can never go down.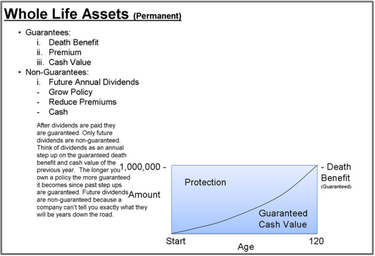 So, I want to focus now on the second illustration, because it brings into the equation what is added to the guarantees and that is the payment of a dividend. What we recommend to people looking at buying whole life insurance, is to buy it from a highly rated company that has a history of paying dividends and treating its policyholders fairly. The type of company we recommend is what is known as a mutual company, meaning a company that has no stockholders, does not answer to stockholders, is owned by its policyholders, mutuality. Unfortunately, less and less carriers are mutual, however there are still some very good companies that have done a very nice job in managing their general account assets so that they are able to provide very competitive dividends. So, a dividend is not guaranteed, however large mutual companies that are highly rated such as Guardian, Northwestern, NY Life and Mass Mutual, have been paying dividends for many, many years, even throughout the history with the depression and bank failures. Insurance companies have treated their policyholders well and these companies even paid dividends throughout that period of time. After dividends are declared each year, once they are paid, they become guaranteed. Only future dividends cannot be guaranteed, so as the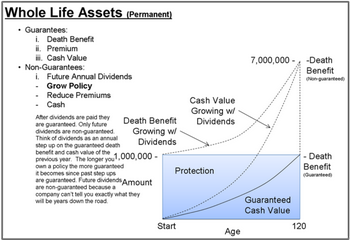 illustration points out, think of dividends as an annual step up on the guaranteed death benefit and the cash value of the policy. The longer you own a policy, the more the guarantees become. Future dividends can't be guaranteed because the company can't tell you exactly what they will be doing year to year, or down the road, but like good wine, whole life insurance becomes better with time.  So what we show you here is the introduction of the non-guaranteed element.
These future dividends grow both the cash value and also serve to increase the death benefit of the policy, so on the third illustration what we show is the effect of those dividends and how the death benefit begins to grow above the base line of the $1 million and how the cash values begin to grow also above that baseline of the guaranteed cash value.
I think that these three pictures do a great job in helping people to understand how whole life insurance works. Please call us or send an email if you have any questions.
Your questions and feedback are very important to me.
Please email me at michael@swanwealth.com
Michael Fliegelman
CLU, ChFC, AEP, RFC
Founder / President
Strategic Wealth Advisors Network
Michael@SWANWealth.com
www.SWANWealth.com
(631) 262-9254
Registered Representative offering Securities through American Portfolios Financial Services, Inc. Member: FINRA, SIPC.
Investment Advisory products/services are offered through American Portfolios Advisors Inc., a SEC Registered Investment Advisor.
Securities offered through American Portfolios Financial Services, Inc. (APFS), Member:  FINRA, SIPC.
*To Determine which College saving option is right for you, please contact your tax and accounting advisor. Neither APFS nor its affiliates or financial professionals provide tax, legal or accounting advice.
Print / PDF